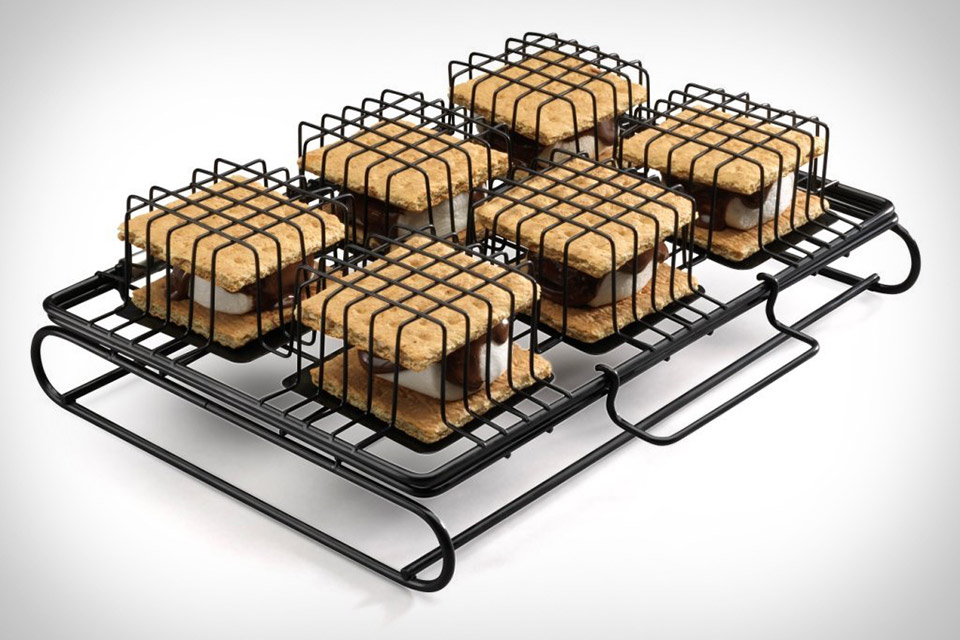 American or not, it's simply not summer without a few S'mores, and there's no better — or easier — way to cook up a bunch when you're away than with the S'more to Love STL-611 6-S'more Maker
This metal carry along campfire and grilling tool lets you make six treats at a time by locking them into place in individual holders. With metal legs, it's possible to use it not just over a fire, but in the oven, in a toaster oven, or even on the grill.
S'mores know how
Ingredients: 1 (6-ounce) chocolate bar (recommended: Hershey's)*
6 jumbo-size marshmallows
12 full honey-flavored graham cracker sections (can substitute cinnamon-flavored graham crackers or chocolate-flavored graham crackers)
Directions
1. Break each graham cracker section in half.
2. Divide chocolate bar into 8 equal parts.
3. Place each chocolate piece on top of half of a graham cracker.
4. Add a marshmallow.
5. Place the other half of the graham cracker on top and introduce to an open flame or grill to form the perfect S'more.
Brit's version: McVitie's S'mores
Ingredients: 2 McVitie's – Milk Chocolate version, 3 Marshmallows
Directions:
1. Take one McVities and place chocolate side up on a plate
2. Place marshmallows onto fork or other lenghty device, a skewer would be swell
3. Over open flame (goes without saying to be careful), toast marshmallow to preferred doneness
4. Remove from flame (extinguish flame if need be) and place newly toasted marshmallows onto McVitie
5. Take other McVitie with chocolate side down and squeeze marshmallows and remove fork
For more inspiration on making S'mores on the go, go get lost recommends
Rome Marshmallow Tree
Hershey's S'mores Kit
Rome #3100 Chrome-Plated Steel Marshmallow Roasting Sticks, Set of 2
If you liked this post, you can sign up for our weekly round-up and be entered into our draw for a 5-star breakaway. Go on… go get lost…